Also see Schlockcast: Lost in Space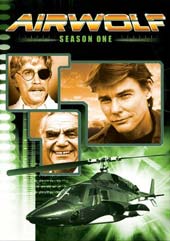 If not for his demons, CineSchlocker idol Jan-Michael Vincent's star might've continued to shine as brightly as when he made The Winds of War and soon thereafter Airwolf (1984).
The testosterone-packed franchise debuted following Super Bowl XVIII and downed rotor-rival "Blue Thunder" after just 11 episodes (despite the best efforts of Dana Carvey, Bubba Smith and Dick Butkus). Both shows were quickie mid-season replacements meant to coattail Roy Scheider's big-screen chopper flick. One less subtly than the other of course. Airwolf flew for 58 episodes and 984,652 explosions before it and Mr. Vincent self-destructed.
Unfortunately, "The Lady" was less-than-gracefully resuscitated on basic cable for two abysmal seasons with Dick Van Dyke's boy in the cockpit (for the sole purpose of eeking out enough episodes for syndication).
The movie: In "Shadow of the Hawke," the feature-length pilot, Libyan ne'er-do-wells heist a super-secret attack copter that's faster and just plain meaner than anything else in the sky, or the ground for that matter. In desperation, an American spymaster (Alex Cord), maimed during the theft, cajoles Stringfellow Hawke (Vincent), a reclusive Vietnam vet who happens to be the only man left alive with the mad skills to fly "The Lady," into embarking on a near-suicidal mission to recapture the experimental craft. Ever-jolly CineSchlocker fave Ernest Borgnine tags along as the pensive pilot's elder sidekick. Before that, though, Hawke spends plenty of time at his mountain retreat serenading a bald eagle and "brooding" the skivvies off a comely agent named Gabriel (Belinda Bauer). Meanwhile, Dr. Moffet (David Hemmings), the mad genius who both created and stole Airwolf, spends HIS time lazing around Qaddafi's digs practicing being NASTY by shooting coins out of folk's hands and deriving sexual jollies by watching dancin' girls roast under the desert sun. Such pastimes are only interrupted when the Libyans sheepishly suggest the low-rent Peter Lorey go charbroil some U.S. military hardware. When he does, it's up to Stringfellow to show him the error of his ways — one hellfire at a time.
CineSchlockers will remember Mr. Vincent got himself a broken neck and permanent case of frog-throat in a 1996 crash while drunk driving. Just prior, another vehicular mishap landed him in the hospital, although it was a stay he cut so short that Vincent still had raw wounds and his ID bracelet on when he made a full-throttle car picture called Red Line with Chad McQueen (Steve's kid), Julie Strain, Dom DeLuise and Corey Feldman. Acting gigs have since been hard to come by.
Notables: No breasts. 32 corpses (plus a Navy destroyer). Skirt-peeping hound. Russian roulette. Gratuitous interrogation scene. Libyan strip club. Iguana dangling. Multiple gun battles. Implied rape. Gratuitous stock footage. Sucker punch.
Quotables: Senator Dietz ain't impressed, "No matter what esoteric name you hang on it, it's still an overgrown beanie with a propeller eating its way through somebody's budget!" Gabrielle concedes, "One usually has to pay traitors more than patriots."
Time codes: Sylvester Levay's techno-riffic theme thumps to life (2:30). Airwolf shows off for the brass (7:32). Jan-Michael and his stand-up fiddle join the picture (12:35). Who couldn't love THIS guy?! (27:35). Think someone saw Flashdance? (40:30). File under "Too Much Info": Hawke reveals he never wears drawers (59:20). Boomer's a long, long way from the Galactica (1:10:20). Vincent emotes (1:22:25).