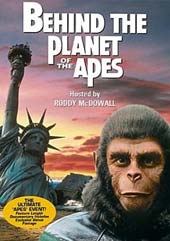 I'm absolutely rabid when it comes to the Planet of the Apes franchise. Plunk me down in front of the big screen and see me drool in sweet abandon while watching any of the films — yes, even Battle for The Planet of the Apes.
Come to think of it, I might even go as far as to say they mean MORE to me than the Star Wars pictures. Insanity, you say!? Ask yourself: Princess Leia or Nova? Billy Dee Williams or Ricardo Montalban? Damn, dirty Ewoks or damn, dirty apes?
Don't worry, there's no need to choose sides, but it's a quandary worth contemplating. There may even be some CineSchlockers out there who haven't fully come to terms with the true scope of their Apes fandom.
The Movie: This comprehensive documentary first aired on American Movie Classics as part of their "Hollywood Real to Reel" series on September 6, 1998. Fans were completely bowled over by the scope of the broadcast and it immediately became prime bootleg material — a testament of its popularity. Host and franchise stalwart Roddy McDowall narrates the original movie's fascinating journey from novel, to script, to screen with a half-zillion stops in between. We hear the stories first-hand from star Charlton Heston, producer Richard Zanuck, actress Kim Hunter and many more.
Among one of the more amusing anecdotes is from Zanuck who admits he always saw the project as an action picture. He never realized the script was boiling over with social commentary, which had been the whole point of Pierre Boulle's novel. From there, McDowall leads us through the trials, tribulations and box-office successes of each sequel, their mountainous merchandising and even the short-lived Back to the Planet of the Apes TV series.
Tragically, McDowall succumbed to cancer just a month after the documentary's first airing. The CineSchlocker favorite was a regular face in B-pictures such as Laserblast, Legend of Hell House and both Fright Night pictures were he played vampire slayer Peter Vincent.