April 26, 2002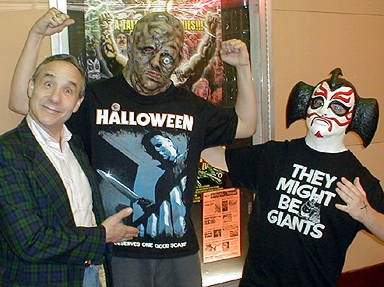 Director Lloyd Kaufman and co-star Sgt. Kabukiman NYPD join Tromaville's beloved super-human hero in celebration of Citizen Toxie: The Toxic Avenger Part IV's illustrious Dallas premiere.
It's 11:30 on a Friday night, and here at the historic Inwood Theatre, a restless line has already formed at the box office for the Dallas premiere of Citizen Toxie: Toxic Avenger Part IV. The group is a weird mix of the tattoo'd and pierced, comic book aficionados and a smattering of khaki'd couples who are all here for a singular purpose — to celebrate Troma's latest excretion. OK, well, most in line for this midnight showing are just here for a good time, regardless, as evidenced by the fella in front of me who just tossed a roach to the ground, or the giggly girl who's hanging on her beau's arm because her heels aren't cooperating after one too many cocktails. But the true Troma fans are easy to spot. They're the ones whose eyes keep darting around in anticipation of Toxic Avenger creator Lloyd Kaufman's imminent arrival.
Greetings from Tromaville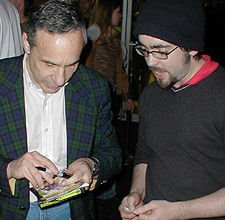 He's here. Lloyd bounds through the crowd in a plaid sport coat and jeans, looking more like the misplaced father of the fans he's greeting than a long notorious auteur known for his skillful exploitation of outrageous gore and melon-heavy breasts. Just past the ticket taker who resembles that furry-footed Elijah Wood fella, Mr. Kaufman sets down his leather satchel, overflowing with papers, and starts shaking hands. No one's a stranger for long. Lloyd introduces me to "super Tromette" Jessie who smiles politely as I eye her skull 'n' crossbones ensemble which smartly compliments her permanent body art collection. Moments later, an autograph seeker gets his Toxic Avenger DVD personalized as the crowd is joined by the super-human hero of the hour and Sgt. Kabukiman NYPD (portrayed by local fans in Troma-supplied rubber masks).
Photo op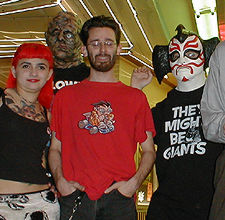 Most everyone has filed into the theatre, but I ask Toxie and Kabukiman for a quick snapshot to document this momentous occasion. Kaufman thinks it's a sensational idea, hurriedly leading us outside, where my quick photo turns into a full scale Troma production. Lloyd clicks into director mode and begins snagging everyone who's willing (or even marginally so) to join us in poses under the Inwood marquee. Tromette Jessie. Friend and fellow journalist Gary Dowell. Theatre manager Cole. And if it were physically possible, Lloyd would've had the guy taking the pictures in the frame as well. We were all gleefully subject to Mr. Kaufman's manic and infectious enthusiasm as we snapped photo after photo. Then it was time to head inside for the main event.
Lloyd's 'roids
Applause fills the time it takes Kaufman and his creations to make their way to the front of the theatre. He thanks everyone for attending this first of two midnight screenings (April 12-13, 2002) made possible by a group he affectionately dubs "the Sleeping Troma Cell here in Dallas." Theatrical distribution is an increasingly difficult proposition even for a film such as Citizen Toxie that's been shown at festivals worldwide including San Sebastian and Tokyo. "The problem that Troma faces, like many independent enterprises, is that we are a society governed by a handful of giant, devil-worshipping, international conglomerates," Kaufman deadpans. "It is very difficult for us, and other independent artists and business men and women to get their movies or enterprises to the public."
As a partial remedy, in recent years, TromaDance has swelled like a boil on the behind of the Sundance Film Festival in an effort to provide budding filmmakers with an alternative creative venue free of competition and prohibitive entry fees. Art for art's sake, or perhaps, flatulence for flatulence's sake, if your flick calls for it. Next stop, the French Rivera. "Troma is going to try and organize a kind of WTO type of protest. We feel we need to take to the streets, because the Cannes Film Festival has gotten much too elitest," Kaufman said. He then encouraged us to spread word of the impending revolt and made a generous offer to filmmakers in attendance, "If you can get to the festival, we may be able to let you sleep on the beautiful Troma floor!"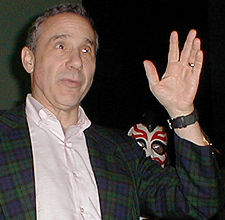 One thing Lloyd loves MORE than thumbing his nose at the power elite is touting all things Troma — our oldest independent film studio. "Certainly in the history of cinema, there's not been an independent movie studio that has lasted 30 years without ever having a hit. I guarantee you, that as long as I'm president of Troma Entertainment, we will continue that tradition," Kaufman proclaimed.
That's about the time some fellas from Mechanically Separated Chickens slipped him their demo CD. "A lot of well-known bands, as well as actors, have started with Troma as a first step," he offered while holding the disc up to the crowd. "Like Kabukiman NYPD. Nobody ever heard of him, then he did Sgt. Kabukiman NYPD the movie and now he's a big star in Citizen Toxie. Kevin Costner's first movie was Troma's Sizzle Beach USA and he loved the water and the beach so much that he went on to do a $200 million movie — Waterworld. All thanks to Troma! But remakes are never as good. Sizzle Beach USA is much better!"
Coming distractions
In the wake of Citizen Toxie's critical success, is Troma's first digital production Tales From the Crapper. "I didn't direct it, so it might actually be somewhat understandable," Kaufman said. "All the Troma family is in it. Trey Parker. Lemmy. Ron Jeremy. Ted Raimi. Julie Strain. It's kind of a vampire situation."
After that, there's a MUSICAL "fromage" to the great zombie flicks of the '70s in development. "It will be a satire of the fast food industry and the limousine liberal movement in this country. … A fast foot chicken restaurant is built on a sacred graveyard and Indian ghosts go into the chickens who become chicken zombies. It's much more sophisticated than the way I describe it," Kaufman joked. "It's called Poultrygeist."
Have Troma's dubious cinematic achievements inspired you to Make Your Own Damn Movie? Well, join the Lloyd's book club this Christmas for the inside story. "This book will be our road map on how we raise our money, develop our projects, do the casting, marketing and distribution," Kaufman said. "Also, there'll be a lot about masturbation."
Tonight's feature presentation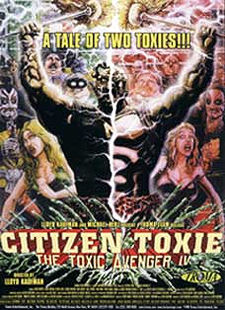 Let's hope everyone's buzz hasn't worn off because it's movie time. Before excusing himself for the night, Lloyd describes Citizen Toxie as "a shot-by-shot replication of the original classic by Orsen Wells, of course, Citizen Kane. The only difference is that Troma put back into the classic all the lesbian scenes, the head-crushing scenes and the car crashes." He's only half kidding! There's some terrific newsreel footage from the sprawling grounds of Tromadu where Toxie's evil twin from an alternate universe, The Noxious Offender, crams a guy's face into Julie Strain's cleavage. Whata way to go! The unofficial numbers include 34 breasts. 96 corpses. Finger sharpening. Bomb gobbling. Tongue ripping. Crucifix to the mouth. Exploding school for the "very special." Pregnant chick pinata. Puking. Gratuitous urination. Multiple diddling. Toe sucking. Exploding wangdoodle. Multiple disembowelments. Paul Kyrmse steals the flick with his inspired performance as a booze-addled Sgt. Kabukiman NYPD. Hilarious cameos by CineSchlocker faves Corey Feldman (his best role since Blown Away) and the late great Hank The Angry Drunken Dwarf. I give it 3 of 5 stars.
Fin
As I staggered from the screening bleary-eyed and semi-nauseous, I was accosted by lovely Tromette Karen and a documentary cameraman. She asked my opinion of the movie to which I responded by staring blankly into the lens and mumbling something like "excruciatingly gross." Then suggested they film the floor in the theatre for my GUT reaction before abruptly ending the interview by walking off camera. Hmmm. That'll make the cutting room floor for sure! My thanks to Mr. Kaufman, the longsuffering staff of the Inwood Theatre and all my fellow Troma fans for a memorable evening. I encourage every CineSchlocker to support independent cinema, and have a heck of a time, by attending the next Troma event near you!