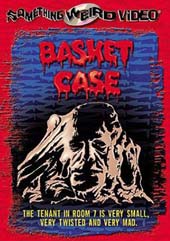 What critic Rex Reed howled in revulsion, filmmaker Frank Henenlotter wore as a bloody badge of honor. Rex ravaged Basket Case (1981, 91 minutes) as "the SICKEST movie I've ever seen!" Henenlotter knew such righteous indignation was gold to the exploiteer as he'd been worshiping at the B-cinemas of New York City's 42nd Street since he was old enough to cut school.
However, Frank was thwarted by his own distributors who neutered the flick's blood and gore with initially disastrous box office results. It wasn't until its meaty plot was restored that a cult following began to build around the picture, thanks in large part to a cunning manipulation of the home video boom. The goretur often points with nostalgic glee that the bank roll seen in the flick is a large portion of its total $35,000 budget.
The movie: A tale of two exceedingly unusual brothers that's rich with vengeance, lust and inexplicable charm. Duane (Kevin Van Hentenryck) is a tall, lanky kid who wanders into the seedy Hotel Broslin toting a large wicker basket. He pays for Room 7 from an enormous wad of cash, then lugs his heavy cargo upstairs, under the prying gaze of suspicious and perhaps devious onlookers. Not long afterward, Duane begins talking to something, rather, SOMEONE inside the basket who snarls and quakes while being fed a sack of hamburgers — wrappers and all. That someone, as any CineSchlocker already knows, is Duane's very tiny and very ferocious bubba Belial. The two are in town to systematically chew — one of them quite literally — through a gaggle of quack physicians they were wronged by many years before. Their wrath is ravenous and even, well, creative. Like when Belial turns a broad into a human porcupine with his gnarled fist full of scalpels. In a Shakespearian twist, all this revelry is complicated when Duane falls for a bright-eyed receptionist (Terri Susan Smith) with a revolving door on her virtue and a dime-store wig. Belial is enraged by and jealous of his brother's Romeo antics which, fueled by his own sexual frustration, spawns a murderous rift between them with obvious Biblical parallels.
Despite the flick's grim finale, the first of two increasingly wacky sequels finds our pint-sized terror continuing his search for romantic fulfillment among his own ilk at a bizarro commune of sideshow oddities (think Clive Barker meets Sid & Marty Krofft). While Basket Case 3: The Progeny follows the fruit of Belial's loins in an apparent ode to Larry Cohen's immortal It's Alive franchise.
Notables: Two breasts. Eight corpses. Monster cam. Nekkid dream sequence with untethered wangdoodle. Eye gobbling. Lock picking. Toilet diving. Hypodermic closeups. Apartment trashing. Gratuitous visit to Statue of Liberty. Boozing.
Quotables: Tenant taunts the young stranger, "[You're] all alone in this cold, CRUEL world." Sharon can't believe a strapping fella like Duane is single, "Don't they have girls up state?!" Duane lovingly describes his brother, "He's deformed! He's a freak! He looks like a squashed octopus!" There's just been too much excitement for the Broslin's manager, "This isn't a hotel! It's a nut house!!!"
Time codes: First of five people to ask "What's in the basket?" (5:34). Feeding time at the Hotel Broslin (9:20). Kung fu scene from The Bodyguard (22:10). First clear look at Belial (31:06). Stop-motion creature animation by Henenlotter (36:55). The shocking origin of these troubled brothers (49:00). Belial returns to his basket after a midnight panty raid (1:09:48). Frank's dedication to gore legend Herschell Gordon Lewis (1:30:50).
Final thought: Rex was only half right. Basket Case is an undeniable, unavoidable and unforgettable clasSICK. An absolute must own for any self-respecting CineSchlocker.