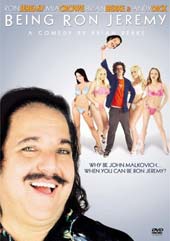 John Malkovich or Ron Jeremy?
Ron Jeremy or John Malkovich?
No question, right? Hedgehog it is!
Well, in theory, anyway. Pornstar: The Legend of Ron Jeremy dropped the drawers on what it's really like to be who, until then, many an adult cinema enthusiast would've considered the luckiest man on terra firma. Wasn't the purtiest of pictures, oddly endearing as it was.
In inspired comedic contrast, this 38-minute scream trades exclusively on the fleshy fantasies we'd prefer to ascribe to Ron's career choice. Writer/director Brian Berke deadpans a sardonic street comedian whose porno obsession and sophomoric social skills ("If I guess your bra size, will you go on a date with me tonight?") actually serve each other when he discovers a boom-chicka-boom-boom portal into you know who's brainpan via a Venice Beach Triple-X parlor. Horndog hijinks naturally ensue!
What's surprising, however, is how laugh-out-loud funny this lovable lark proves to be. Ron Jeremy's self-deprecating, winking wit will never be more perfectly pitched, especially when paired with Andy Dick whom the film supposes is Ron's real-life "acting" coach. But Berke, perhaps thanks to his comedian pedigree, knows precisely when to exit the stage instead of milking his smartly spartan spoof into a feature-length bore.
Fret not, Brian still manages to jiggle 19 breasts worth of porn starlets across the screen.