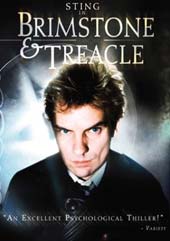 Originally a play, then a made-for-TV movie that was banned for a decade before the BBC eventually aired it, curiously after THIS film version hit theaters starring Sting of The Police.
It's the story of a weary English couple whose invalid daughter weighs heavy on their minds and lives until a wily street urchin (Sting) charms his way into their home by claiming to be the daughter's forgotten beau. There's little doubt this "Martin" is up to the devil's business, but could he be THE dark prince himself? And what horrible secret wrought such a pox on the household of a simple purveyor of religious greeting cards?
Police fans will appreciate the band's instrumental contributions to the soundtrack, as well as Sting's aptly titled torch song, "I Burn For You," and even his inappropriately jaunty "Spread a Little Happiness."