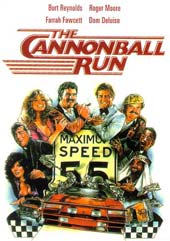 Let's all join in a moment of reverence for the awe-inspiring Ernest "Cannonball" Baker. Waaaay back in 1914, Cannonball mounted his motorcycle and made the 11 day, 12 hour and 10 minute trip across the grand old U.S. of A. — that's 3,379 miles. And he'd do it again and again. His best time was in 1933, traversing from New York to Los Angeles by car in 53 hours and 30 minutes at an average speed of 60 miles per hour. That's before interstates, folks. In 1971, gearheads and speedfreaks embarked on the first of a few yearly tributes known as the Cannonball Baker Sea-to-Shining Sea Memorial Trophy Dash.
This need for speed even beset Hollywood and road pictures became all the rage with the likes of Death Race 2000, The Gumball Rally and the very first Cannonball. It'd be about five years before The Cannonball Run (1981, 96 minutes) would embrace the same racing formula, but never before had such a cast of mega-stars been at the wheel.
Now, that was 20 YEARS AGO, so y'all let it sink in how HUGE a certain Mr. Burt Reynolds was then. How about Dean Martin!? Farrah Fawcett!? Even James FREAKIN' Bond!!!
The movie: After totalling their original mode of transportation, Burt and rotund sidekick Dom DeLuise ponder the best means of blazing across the country on four wheels without raising the attention of Johnny Law. It's while they're being rushed to the hospital — after crashing their speedboat — that inspiration strikes. AN AMBULANCE! Meanwhile, Dean Martin and Sammy Davis Jr. don priestly garb behind the wheel of their Ferrari. Adrienne Barbeau and Tara Buckman choose to rely on the overwhelming speed of their Lamborgini and their enormous feminine wiles. Everyone thinks they have THE gimmick that'll give them the edge in this cross-country race for glory. With the presence of natural wiseasses Burt & Dom and Dean & Sammy comedy easily wells up among the orgy of car chases. More than that, we've got Stunts-O-Rama!!! Bert Convy rides a motorcycle out of the back of an airplane! A team jumps their truck over a TRAIN! But unlike Death Race 2000, no one ever gets hurt — not even the smokies. It's simply good family entertainment with gratuitous cleavage.
CineSchlockers will recall that the Chairman of the Board himself joined his fellow Rat Packers in the only honest-to-goodness sequel. However, Brook Shields is certainly easy on the eyes in the low-gear, non-sequel sequel Speed Zone.
Notables: No breasts. No corpses. Drinking and flying. Seltzer to the crotch. Exploding van. Goosing. Excessive wheeze laughter. Monkey wrench to the jaw. Boozing. Subaru launching. Gratuitous Smokey and the Bandit reference. Wild driving.
Quotables: Farrah championed the cause of environmentalism long before it was fashionable, "You know what I like best about trees? You can lie under them on a moonlit night, with the breeze blowing, and ball your brains out." Campaign banner of Sean "Kill a Commie" O'Scanlon reads, "God, guns and guts keep us safe from hippie nuts." Dean kids Sammy about his height, "You're small! S — M — ALL."
Time codes: First appearance of Captain Chaos (6:50). Plane makes an emergency landing on busy city street — for beer (8:30). Terry Bradshaw parks his car in the hotel swimming pool (17:20). Behold the power of Farrah's nipples (26:50). The famous 007 Aston Martin (31:40). Ms. Barbeau's amazing peekaboo zipper rises and falls BY ITSELF (46:30). Jackie Chan loves porno movies (1:14:10). The all-star biker brawl (1:20:30).
Final thought: They simply DON'T make movies with this level of celebrity excess and reckless abandon anymore. Rent the sequel and indulge in a nearly four-hour marathon of high-octane, low-brow hilarity.
Tinseltown Time Machine
Twenty years ago, Cannonball Run boasted a stunning cast of some of 1981's biggest and brightest stars. Hollywood loves to recycle a proven success, so who would land the principal roles in 2001?
Jester sex symbol and his sidekick buffoon
Burt Reynolds

and

Dom DeLuise


George Clooney and
Louie Anderson
Perky, blonde obsession of American men
Farrah
Fawcett

Britney
Spears
Hot cleavage queens with a need for speed
Adrienne Barbeau

and

Tara Buckman


Pamela Anderson and
Elisabeth Hurley
International man of mystery and sophistication
Roger
Moore

Austin
Powers
Hipster jokesters of the cloth — with a mean streak
Sammy Davis Jr.

and

Dean Martin


Chris Rock and
Jerry Seinfeld
Asian sensation with dazzling foot work
Jackie
Chan

Jackie
Chan
Nashville yokel and punch-drunk football great
Mel Tillis

and

Terry Bradshaw


Garth Brooks and
Troy Aikman
Arabian oil baron with an eye for the ladies
Jamie
Farr

Wilmer
Valderrama
Twitchy proctologist known to frighten small children
Jack
Elam

Jeff
Goldblum