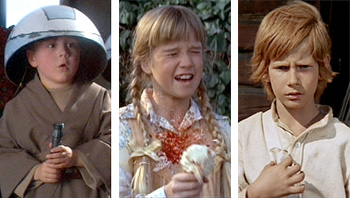 download mp3 (10 min, 6 mb)
Guess y'all really shouldn't have been so encouraging, because I've already thrown open the mic for another pod — ahem! — schlockcast. After feeling nonplused over the Younglings buying it in Revenge of the Sith, George Lucas got me mulling the provocative power of "kiddo killing" and how this big-screen taboo was far more arresting in John Carpenter's Assault on Precinct 13 and Sergio Leone's Once Upon a Time in the West.
Also, on a more chipper note, Misty Mundae may be The Girl Who Shagged Me, but it's Anoushka's cave babe that makes Seduction Cinema's latest spoof sizzle.