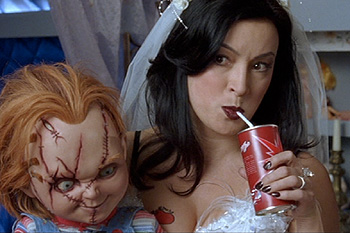 download mp3 (23 min, 16 mb)
An uneasy aspect of podcast technology is that y'all can hear me gush about Jennifer Tilly's terrific turn in Seed of Chucky (3.5 stars) instead of my merely chicken-pecking effusive prose. Try not to think less of me as that much heaving cleavage over an 86-minute running time — compounded by oodles of grue and gut guffaws — would surely fell any CineSchlocker. Instead, fixate on Ms. Tilly her-salivatory-self thanks to yours truly's secret stash of audio from Comic-Con.
Stay for the duration (I dare ya!) and …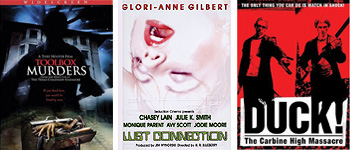 Discover the unseemly side of Tobe Hooper's Toolbox Murders (3.5 stars), ahem, retool. (Pssst! Stick with the orginal!) B-babe Glori-Anne Gilbert tackles dual roles in Lust Connection featuring Triple-X siren Chasey Lain. Columbine begets Duck! The Carbine High Massacre.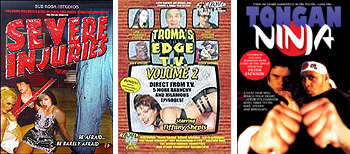 Think the genre needs another slasher spoof? The earnest folk behind Severe Injuries do. Super-Tromette "Bulimia" (a.k.a. Tiffany Shepis) returns for Troma's EDGE TV Volume 2. Plus, at last, a musical for slapstick-savoring kung fu fans arrives in the hobbit-approved Tongan Ninja.