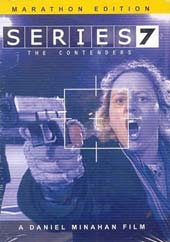 There's about 30 minutes worth of good idea here and another hour to drown it out. Dawn (Brooke Smith) is nine months pregnant.She's adored by millions of Americans. She's the winningest contestant on a red-hot reality TV series where the only prize is your life. Consequently, she's also a cold-blooded killer.
Anyone NOT see where this is headed? Doesn't matter.
Visually and structurally, the movie expertly apes the genre's trappings with style and humor. Except for the final reel.
That's where DVD really comes in handy. Right there among the deleted scenes is the flick's original and VASTLY superior ending in which the society at large rises up to enforce the rules of this sinister game.
But writer/director Daniel Minahan effectively yanks his satire's choppers with that convoluted Bonnie 'n' Clyde Playhouse finale of his.