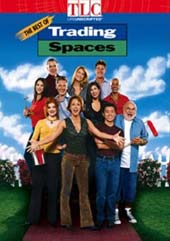 They say the first step toward recovery is admitting you've got a problem. Here goes. Real men don't eat quiche, but we DO watch the giggly mayhem of TLC's runaway phenom "Trading Spaces." We break for time-lapse room transformation footage and wacky trumpet music. And in an informal poll conducted in the DVD Talk forums, myself like countless other husbands, boyfriends and creepy loners, are also strangely intrigued by its cast of able-bodied decor sirens. The five most desired for a one-on-one design consultation? In descending order …
Page Davis: Ultra-perky host who hovers slightly off the ground with the kinetic energy of 10,000 kittens batting string. Black belt in nagging.
Genevieve Gorder: As the Commodores so articulately opined, she's a brick house. Baby talks like Alyson Hannigan in American Pie and is, by far, my personal fave.
Amy Wynn Pastor: Handy gal who knows how to handle a T-square if you know what I mean and I think you do.
Hilda Santo-Tomas: This regal latina is voted most likely to make you strip nekkid, slather you with black paint and douse you with hay. Complaints will earn swift consequences via staple gun.
Laurie Hickson-Smith: Red-headed Southern belle is a born cheerleader, but don't be fooled, she's known to make grownups cry.
—
Now the hijinks come to a "Best of" DVD that allows fans and neophytes alike to wander some of the series' most memorable moments. First up, those "Love it!" or "HATE IT!" reveals that illustrate just how well or horribly haywire things can go on a two day, thousand dollar budget. Yep, the tearful "I'm gonna have to leave the room now" fireplace fracas makes the cut. So does Hildy's infamous barnyard disaster.
There's also a reel on favorite homeowners from "Ick! AstroTurf!" sassy to spastic freakazoids like Chris Wylde. Enjoy bloopers such as a belching Amy Wynn or some hilariously naughty "caulk" talk. Each cast member also gets their own highlight reel with heartthrob handy-dude Ty Pennington clocking in with the most footage followed by the notoriously fussy Doug Wilson.
With nearly two hours of goodies to explore, this truly is a "Best of" in the most favorable meaning of the term, although lazier home improvement enthusiasts will whine for the convenience of a "Play All" option.