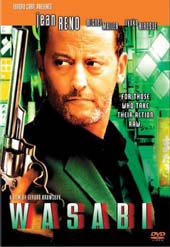 French humor is an inherently dicey proposition. [CineSchlockers are encouraged to insert their own snarky Jerry Lewis quip.] But shoot 'em up maestros Jean Reno and Luc Besson sucker-punch the national stereotype whilst successfully mining familiar territory for some wry yucks that stray easily into slapstick.
Hubert (Reno) is of the Parisian "Dirty Harry" school of law enforcement who packs an appropriately oversized hand cannon, though he much prefers dispatching transsexual bank robbers, and their law-flouting kind, with a mighty MEAN right cross. As the genre dictates, cookies this tough gotta have a doughy center from which to properly brood. Hubert was unceremoniously dumped by his Japanese squeeze 20, er, NINETEEN years ago, but when she turns up dead, he's called to Japan in order to settle her estate, and more importantly, take charge of the daughter he never knew existed.
Ryoko Hirosue stars as the yummy Yumi who whirls and squeaks like an unnaturally cute video game pixie. Add a 200 million dollar inheritance and the yakuza scarface known as the Zebra (Yoshi Oida) who wants it back and Hubert's got every excuse to clobber and blow folks up, in other words, there's a PLOT! Along the way,
CineSchlockers won't be able to take their peepers off chinless goofball Michel Muller as Reno's wacky man in Japan. Cowboy up and ditch the horrendous English dub. Subtitles never kilt anybody.
No breasts. 20 corpses. Chiclet spitting. Gratuitous plunger-style TNT detonator. Racking. Golf as a martial art. Gratuitous French lesson. Puking. High-tech disco dancing. Gratuitous fashion show. Comely Ms. Carole Bouquet makes Hubert a tempting offer, "When your heart's free, call me. I can't cook, but I make love very well."