Also see H.G. Lewis Goreography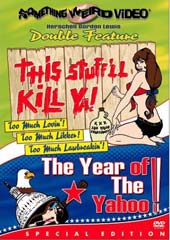 Of all his features that've gone MIA after release, this is the one that Herschell Gordon Lewis mourned most, yet as is their way, Something Weird Video has managed to ferret out this gently worn print. This "message picture" about the commingling of media manipulation and political power is surely an ambitious departure from the Godfather of Gore's usual Grade A exploitation fare. Real-life country crooner Claude King stars as media mogul and moral relativist Ray Sager's chicken-fried senatorial candidate. Ol' Hank Jackson's songs of the working man, patriotic tunes about "Old Glory," begin to turn suspect as his campaign puppeteers bend his lyrics, appearance and politics to best unseat a deeply rooted incumbent. It's a world of polls, carefully choreographed public orations and skillful mass-market advertising. (The latter squarely in Herschell's realm of expertise.) Being a morality tale, Hank flounders much too long before realizing he's mortgaged his soul and it takes the love of a good woman to help circle the wagons in the end.
Notables: Two breasts. No corpses. Orderly rioting. Copious caterwauling. Diddling. Horse hooey. Hippy haranguing. Reefer madness.
Quotable: The establishment doesn't cotton to new ideas: "What are y'all talking about!?! He's not a used car! HE'S A CONGRESSMAN, DAMN IT!!!"