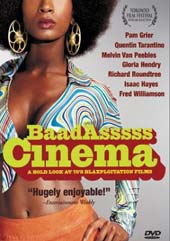 Documentarian Isaac Julien ponders the cultural causes and consequences of blaxploitation via interviews with Pam Grier, Fred Williamson and genre jabberjaw Quentin Tarantino among MANY others. There's some terrific archival shots of Gordon Parks and Isaac Hayes working up the immortal Shaft theme. Genre father Melvin Van Peebles chomps on a cigar while holding forth on the cinematic importance of "poontang."
Oddly absent is Jack Hill who wrote and directed the breakthrough flicks that made Ms. Grier a superstar.
Exactly as seen on IFC, except for about 30 juicy minutes of extended footage. While it's hard to agree, CineSchlockers will devour The Hammer's grinning jabs at Quentin's "poor replica" of blaxploitation — Jackie Brown.