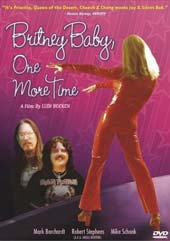 Equal parts road comedy and drag revue, this almost true story of one fan's odd-yssey to meet a pop princess is an absolute riot. Robert Stephens (a.k.a. Angel Benton) really did beat out a gaggle of tweens in a Britney Spears sing-off. The leering press really did mistake him for the fabulously female Britney backstage just moments before he was to meet her. From there, reality and cinema turn off the lights and play grab ass.
Hence American Movie phenoms Mark Borchardt and Mike Schank as a pair of Milwaukee horror hounds — sound familiar? — who scheme to make some quick cash by interviewing Ms. Spears. Unfortunately, Mark's innate journalistic instincts override his common sense, so he dares ask the question wondered the world over: "Are they for real?" With Mark 'n' Mike now sharing Robert's persona non gratis status on Planet Britney, the trio form an absurd alliance as they trek across American to rejoin her concert tour in New Orleans. Along the way, "mistaken identity" hilarity ensues, such as when "Britney" saves a tike from a roadside inferno or when a gang of "You ain't from around here, is ya?!" truckers form a redneck chorus line aping, in unison, a certain star-making schoolgirl routine. This mad, mad, mad, mad misadventure only gets wackier from there. Best of all, Mr. Stephens is often more Britney than Britney. Well, except for the penis!
No breasts. Gratuitous alligator-goes-into-a-bar joke. Rampant lip syncing. Angry goths. Fainting. Falsie fiddling. Gratuitous urination. Lesbian tongue rasslin. Gratuitous makeover. Thong talk.
That's sound-alike Jennifer Herbig stunt-vocaling "Oops I Did It Again" and "Sometimes."