Day One / Day Two / Day Three / Bonus / Return to Story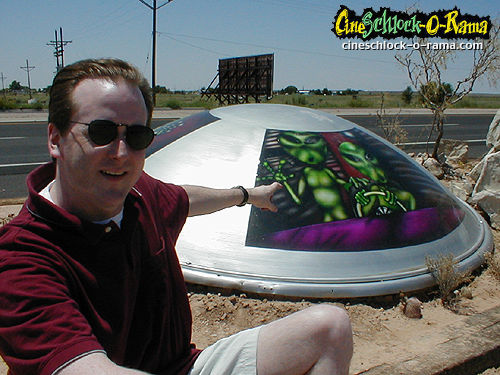 This sucker came to rest right along HWY 380. Conveniently in front of the original Crash Down Diner.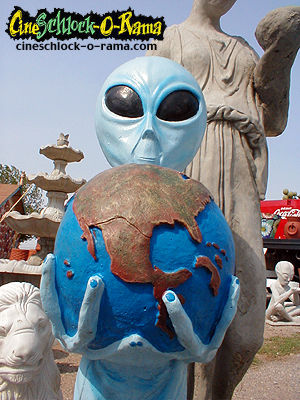 Wielands Yucca Emporium featured a variety of unusual concrete lawn ornaments. Surely famed abductee Whitley Strieber wouldn't begrudge this blue beastie.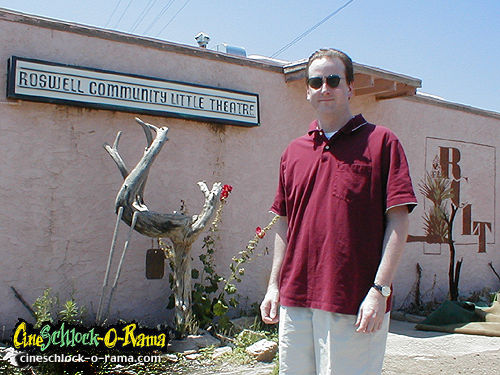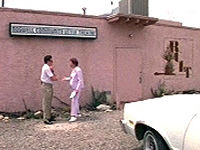 The first staging of Gene Murray's "Roswell: The Musical" was here at the Roswell Community Little Theatre. It moved to an outdoor venue in subsequent years, but unfortunately, wasn't performed this festival.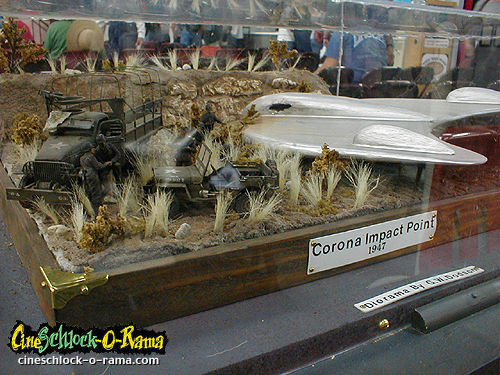 The International UFO Museum and Research Center boasts an impressive array of exhibits like this recreation of the "Corona Impact Point" by G.W. Dodson.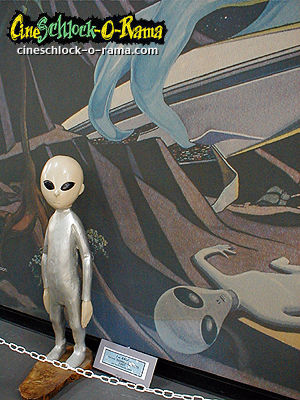 Miller Johnson's mural depicting a downed UFO is a favorite photo op for museum visitors. Especially, with the wooden alien survivor carved to scale.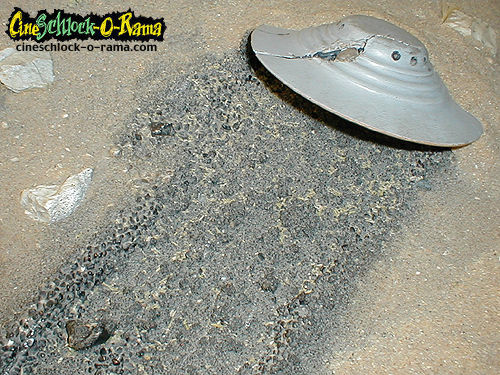 Another artist's conception of what the crash might have looked like.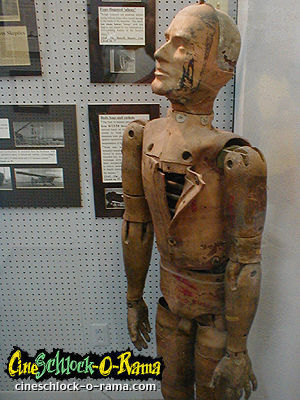 Here's one of the "anthropomorphic dummies" the U.S. Air Force asserts were confused for extraterrestrial bodies. The dummies are about twice the height of creatures witnesses reported, but more importantly, these high-altitude tests were conducted at least three years AFTER the events of 1947.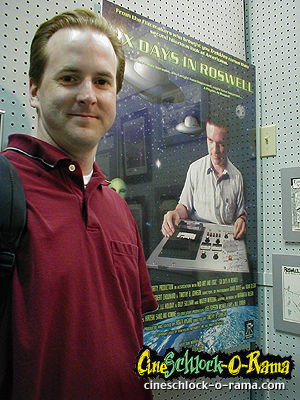 Being both a Six Days fan and a movie poster collector, it was great to see one of the ultra-rare one sheets for the film. It's signed by producer Roger Nygard, "To the Roswell UFO Museum. The greatest museum in this galaxy (and several others too)!"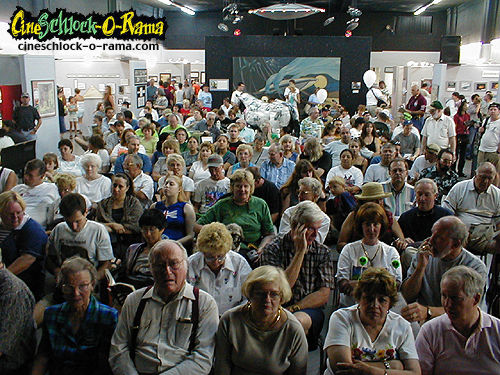 Standing-room only crowds gathered for each of the museum's special guest lecturers.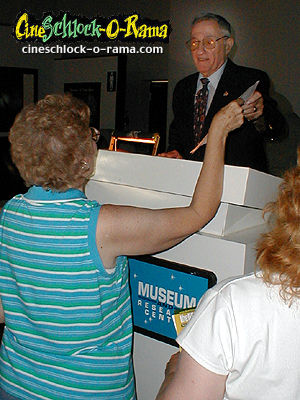 Renowned North Carolina ufologist George Fawcett greets the faithful after his speech.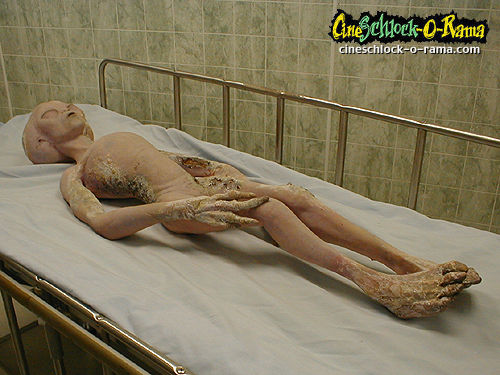 This alien was featured in the Roswell movie starring Kyle MacLachlan and it's the final, most impressive exhibit of the museum.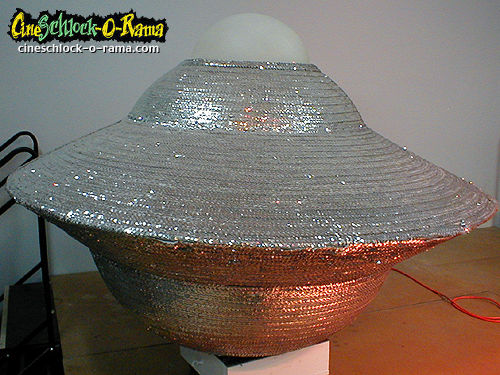 Sharon Engelstein's "Fancy Flying Saucer" can't be missed on its lecture stage perch.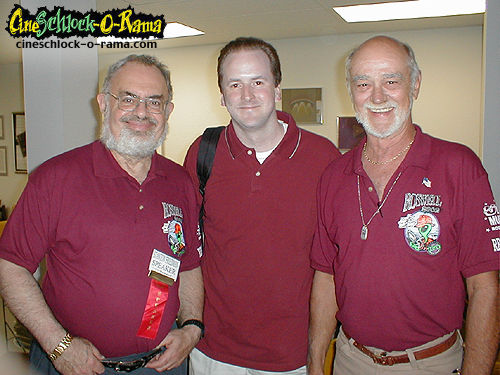 Yours truly with celebrated ufologists Stanton Friedman (left) and Dennis Balthaser. Both were featured extensively in Six Days in Roswell.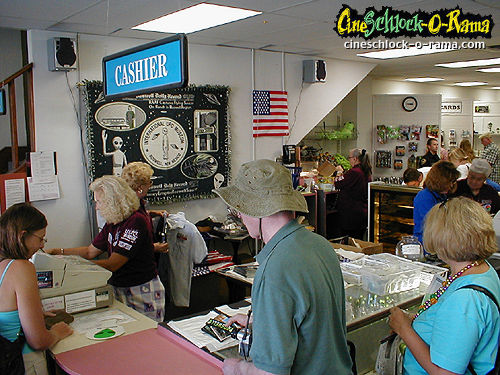 The museum's gift shop registers were never silent during the festival.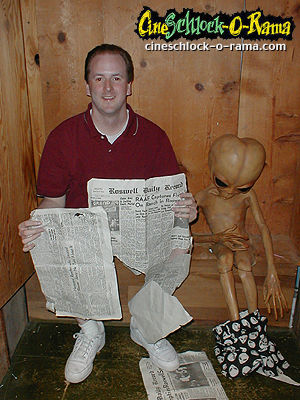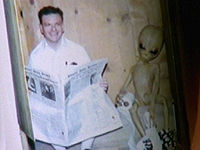 A two dollar pass at The Alien Zone gains you access to Area 51 were you can take photos in about 20 wacky alien-themed scenes. Sadly, I wasn't able to get mine transferred to a coffee mug like Rich.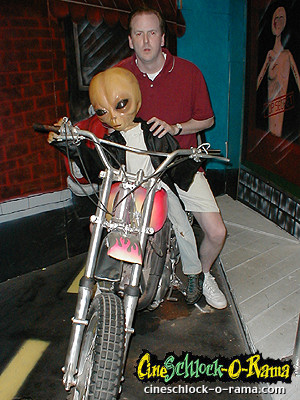 Yours truly costars in, gulp, E.T.-asy Rider.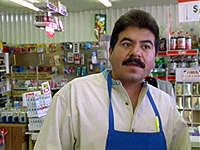 In Six Days, when Rich was turned away by the cheese makers at the Luprino Foods plant, he opted instead to buy some tasty mozzarella at Walkers Food Store. Naturally, so did I.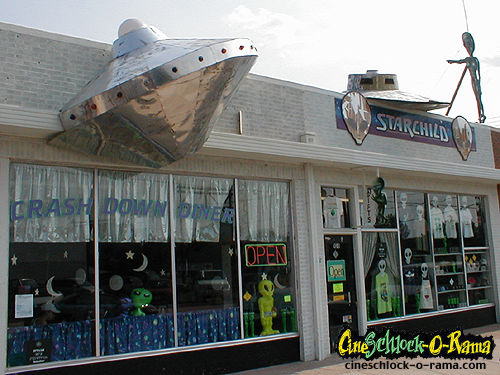 The newest location of the Crash Down Diner across from the UFO Museum and right next door to the Starchild gift shop.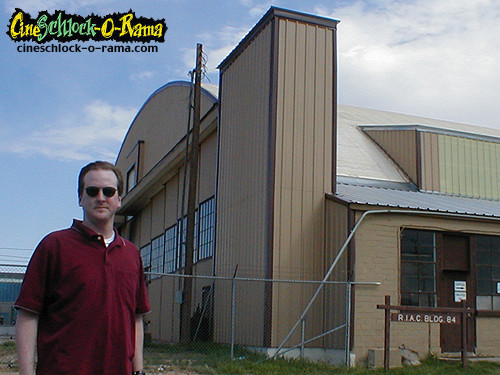 Here it is! The infamous Hangar 84 at Roswell Army Air Field where debris and maybe even alien bodies were briefly housed.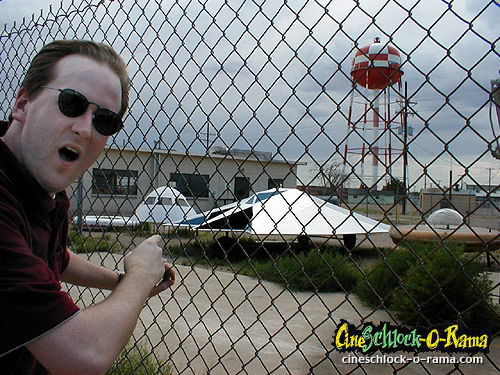 THEY'RE STILL HERE!!! Alien space ships are locked away behind security fences near Hangar 84!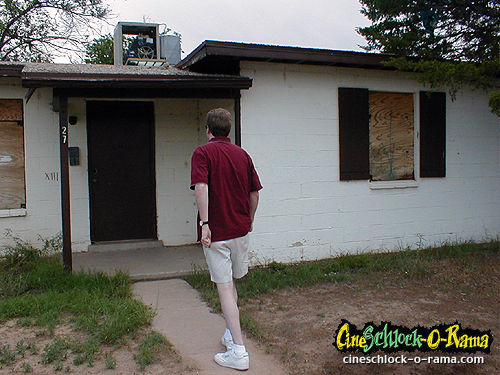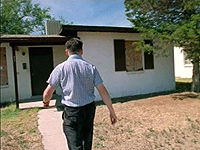 Demi Moore is hailed as one of Roswell's most famous residents. She wasn't home when Rich dropped by, and I'm disappointed to say, she wasn't around when I came knocking either.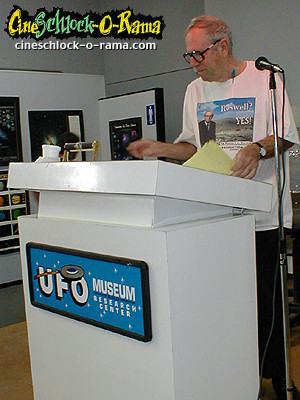 Editor of Saucer Smear and practically life-long UFO investigator Jim Moseley used his witty lecture to promote his book Shockingly Close to the Truth: Confessions of a Grave-Robbing Ufologist.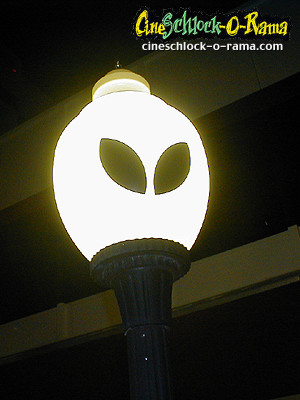 Even the street lights in Roswell have an otherworldly flair.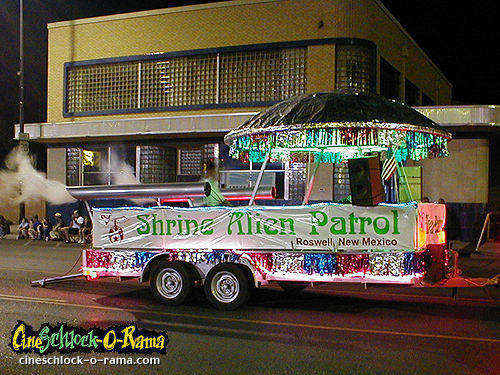 The Shriners lead the way in the Electric Light UFO Parade down Main Street.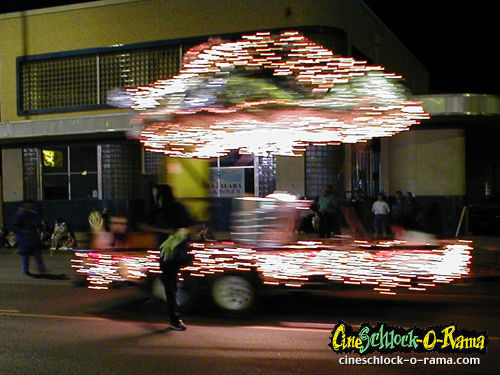 Not unlike actual UFOs, these strange, glowing vehicles prove frustratingly difficult to capture on film.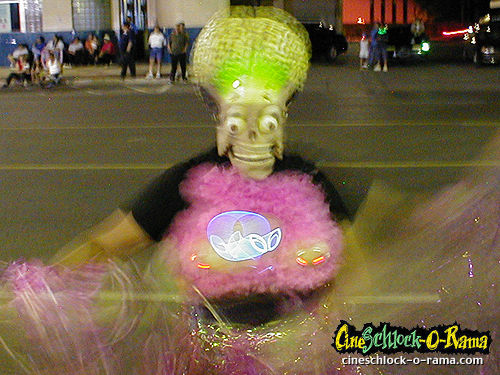 Yours truly is accosted by a hula-dancin' space babe.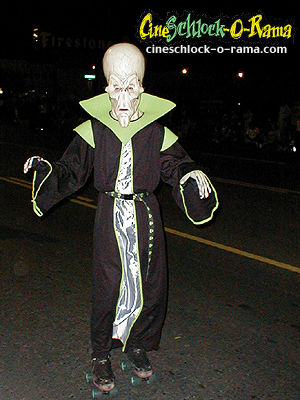 This space dude prefers roller skates to teleportation.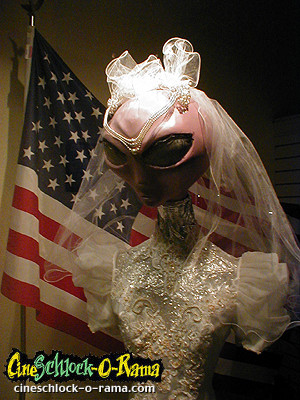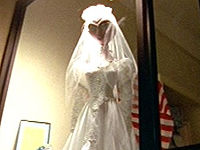 In the storefront of Adrean's Wedding Gallery, "A Cosmic Announcement: Miss Mari Martian to wed Mr. Sam Saturn. (Hopefully he has mastered landing procedures this time!)"